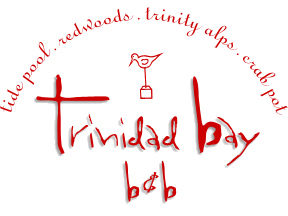 Reservations, Policies, Planning
Reserve & Plan
Welcome Guests! Booking online at our Square Store is new for us. It is more secure than any other option, but it is less "user friendly" than many options. So, if you prefer or need additional assistance, please phone near 3p on 1-707-677-0840. We are generally available after breakfast (around 10a), and before we collapse (around 5p). If we're busy helping another guest, please leave a message, and we'll get it around 3p.
We are using Square, Inc. for our online reservations. Look up room availability, book a new reservation, or call us to check on a current reservation. We hope our shop will be as helpful to you, as it is becoming to us.
Policies, Rates and Resources
Reservations require a 2 night minimum?!! Not with us - ever! We also don't jack up rates on holidays or busy weekends. At booking, a NON-REFUNDABLE $150 PER DAY RESERVED reservation fee is charged. Reservations may be made with a valid VISA, MasterCard or American Express and Direct Invoicing can be arranged. Please telephone: 1-707-677-0840 or you may check availability and book reservations online at our shop.
Cancellations require a 7 day prior to arrival notice, or you are responsible for the full cost of your reserved room for your reserved time - no matter the situation. If you miss your deadline, we will try to re-rent your reserved room for you and at Owner's discretion, you may receive a partial refund. Please telephone: (707) 677-0840 if your plans change.
Check-in around 3p. We request after 3p. arrival arrangements be made in advance. Without such arrangements, rooms may not be held after 6p and no refund will be issued.
Check-out around 1p. Relax, you don't have to be out by 11:00a like some hotels.
Rates are based on double occupancy and include a three course breakfast served about 8:30. City bed tax of 12% and County tax of 2% will be added. All rates and restrictions are subject to change without notice here. Please txt or phone (707) 677-0840 before booking, if you are unsure of our policies referenced here.
Restrictions: Due to guest allergies, crated pets may overnight in the garage, and smoking only outside please.
Nearest Airport: Arcata-Eureka Airport in McKinleyville, 10 minutes from Trinidad via CA Highway 101. Rental cars available at the airport, or schedule us to pick you up for free!
Driving to Trinidad: Portland 8hr, San Francisco 6hr, Sacramento 6hr, Grants Pass 3hr, Redding 3hr, Mendocino 4hr.
The prettiest, most romantic B&B in charming Trinidad, California